The Teachers as Designers team is made up of five brilliant minds from around the world – all with a strong interest in teaching and technology!
There's Ania Rolińska, Karin Heuert Galvão, Karina Thorne, Emma Cresswell & Jeanne Waldburger.
Here's a little bit about each of us:

Ania is an experienced and well-qualified EFL/EAP tutor (University of Glasgow and Glasgow School of Art), online teacher trainer (International House) and a student (MSc in Digital Education/University of Edinburgh). She is a keen advocate of innovation in ELT and professional development. Special areas of interest include learner's autonomy, online course/activity design, multimodal approaches to writing and opportunities learning technologies offer for stimulating creativity and 'will to learn'.
Karin Heuert Galvão has been an EFL Teacher for 15 years and Director at i-Study Interactive Learning for 8 years. She holds, among others, the CELTA and IH Certificate in Online Tutoring. She also writes materials for EFL courses for students from 2 years old and on. She is one of the moderators of an online community based on Facebook: BrELT (Brazil's English Language Teachers). She is passionately committed to the quality of the learning experience and is always looking for opportunities to learn, teach and share ideas.
Karina is an EFL teacher (Beijing Institute of Economics and Management) and Masters student (Digital Technologies for Language Teaching with the University of Nottingham). Her studies, coupled with an inquisitive nature, have inspired her to experiment with digital tools in the classroom, volunteer as a student blogger mentor and to certify as an Online Tutor.

Emma is the Assistant Director of Studies at International House Coimbra and online teacher trainer (International House). She regularly presents at conferences, both face to face and online as well as moderates at the International House Teachers' Online Conferences. Special areas of interest include promoting the use of different technologies in the classroom, social media relations, linguistics and etymology and their effect on language learning.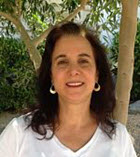 Jeanne has been an ESL teacher for one year. She has a bachelor's degree in Spanish and French. She has a CELTA certificate as well as a Certificate in Online Tutoring. Special areas of interest are pronunciation and writing.